Beautiful Mountain Home with Open Concept & Plenty of Updates! ~ Property #248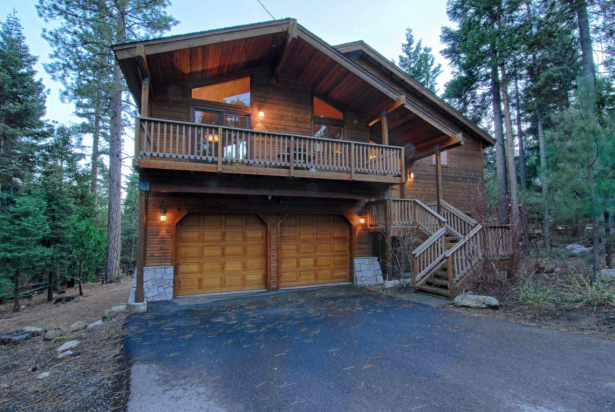 6430 Wildwood - Tahoe Vista, CA
Beds: 3
Lofts: 0
Baths: 2.5
Sleeps: 8
Square Ft: 1767
Property ID: 248

Loading...
Custom-crafted Tahoe Vista home now open to rentals! This newer home is fantastic! From the forest-lined views, 2 car garage, updated interior and grand chef's kitchen, this home has all you'll need for your next Tahoe getaway!
The upper floor of the abode features an open concept living area with a great kitchen and a mix of granite and butcher block counter tops, stainless steel appliances, a wine fridge & brand new dishware, pots and pans. There's a separate dining area with a custom table that transitions into the living area with a gas fireplace, large wall-mounted television with cable and two plush couches for comfort. There are two decks off this living area; the first faces south and has great sun exposure. The front deck of the dining room has a gas grill. Home is also wi-fi equipped!
The cabin houses 3 bedrooms on two separate levels and sleeps up to 8 guests. The master suite is upstairs on the main floor. It is over-sized and has an en-suite bathroom with jetted tub and a separate shower. This room overlooks beautiful pine trees and has a lot of privacy.
The other two bedrooms are both on the lower level. The first has a queen bed and overlooks the back yard. The last of the three rooms is great for the kiddos and has a new log cabin style twin bunk. This level has a shared full bathroom between the two rooms as well as a separate laundry room with washer & clothes dryer.
Residence is a in a quiet family neighborhood of newer properties in North Lake Tahoe. The central location makes planning your vacation an ease with short distances to favorite beaches, hiking trails and ski slopes!
Home Features
Basic Expanded Cable
Bear Shed
Clothes Dryer
Coffee Maker
Deck/Balcony
Dishwasher
Expanded Select Cable
Fireplace (Gas)
Flat Screen TV
Flooring: Hardwood
Forest Views
Furnished
Garage Available
Garbage Disposal
Grill (Gas)
Hair Dryer
Internet
Internet with WiFi
Large Home
Microwave
No Pets
Non Smoking Home
Patio Furniture
Soaking Tub
TV with HDMI Capabilities
Un-Fenced Yard
Vacation Rentals
Vaulted Ceilings
Washing Machine
Wine Fridge
Other Amenities
BEDROOM #1 (Main floor): 1king bed
BEDROOM #2 (Lower level): 1 queen
BEDROOM #3 (Lower level): 1 bunk bed
LIVING ROOM: 1 sleeper sofa pull out
--------------------------------------------------------------
BATHROOM #1 (Main floor): 1/2 bath
BATHROOM #2 (Main floor): 1 full bath with separate tub & shower (en-suite with bedroom #1)
BATHROOM #3 (Lower level): Full bath
--------------------------------------------------------------
PETS: Home is a pet free property. Absolutely NO PETS allowed!
SMOKING: NO
Additional Information
For specific quotes, please click on the orange button above labeled "Availability / Book Now". From there, click on "Rates & Availability" then enter your specific dates and wait for the quote to appear. If you're ready to book, simply click the "Book Now" link.

ADDITIONAL FEES
CLEANING FEE: Each of our homes is assigned a cleaning rate. This is a one-time fee assessed with each reservation.
TRANSIENT OCCUPANCY TAX: 10% (applies to rent and cleaning fee)
VACATION RENTAL DAMAGE INSURANCE: $29.95 – OR - $3,000 Traditional Deposit
OPTIONAL TRAVEL INSURANCE: 6.95% of rent

**
Review this Property
Perfect!
February 2019
Our family really enjoyed our time here. The cabin is spacious and everything feels new. It is also in a great location - close to restaurants and resorts.
- Joan G.
IMPRESSIVE!
January 2019
★ ★ ★ ★ ★
Every single comfort imaginable was waiting at the cabin for us! The kitchen is a dream to cook in! Srsly? Central vacuum??!! We absolutely loved every minute! The location is phenomenal, right in the middle of one of the BEST parts of Tahoe! Kinds Beach is a 1 min drive and is breathtakingly beautiful! Safeway right down the street! Yummy restaurants and cute shops all over the place! The front and back 'yard' of the cabin is a snowy forest the kids played in for hours while I tidied up. -Could hear them the whole time from every deck. Wish I could live here year round! Already planning our next vacay! :)
- Valerie L.
Nice and Clean!
January 2019
Tahoe NORTH Rental's place is very responsive which is always nice when making travel plans or asking questions. Retrieving and returning the key was simple and just as they explained it would be. The house itself was lovely and clean and close to Northstar which is what we wanted. All in all our annual Tahoe winter vacation was wonderful!
- Naomi H.
Excellent Stay!
September 2018
★ ★ ★ ★ ★
The house was extremely clean and appeared to be either very new or recently renovated. The main family room was a great space for our family to relax. The neighborhood is very quiet and allows easy access to restaurants and shops in Tahoe City, Kings Beach, and Tahoe Vista. Would highly recommend for any families or medium sized parties looking for a nice comfortable stay.
-Eric S.
Awesome Place!
September 2018
Awesome place for family vacation in Tahoe. No complaints
- Name
"Awesome House"
Guest: Rickie
Stay Date: January 2018
Home Rating: "EXCELLENT"
This place was fantastic! Situated in the wilderness where hiking trails are in walking distance. The beach is in close proximity as well. As for the property...awesome! It's clean and maintained like a 5 star hotel. The rooms are comfortable. You can relax by the fire or chill on the porch and watch nature. The kitchen was great with up to date appliances. Definitely will stay again.
"What a Gem!"
Guest: Jim
Stay Dates: January 2018
Home Rating: "Excellent"
This property was a fabulous find! Located on a nice quiet street but within such an easy drive to Kings Beach for all the amenities and craziness that Kings Beach has to offer. But in the end, returning to this beautiful house was what we wanted in a relaxing weekend by the lake. Modern, uncluttered, well-maintained and functional, all three bedrooms offer quiet and comfortable accommodation. Kitchen was amazing and large enough for the gatherings that always seem to happen in the kitchen. It was nice to have decks on both sides of the house as well. Also, many rentals seem to use their garages for storage. It was such a surprise to find this garage clear and available for cars! It meant that the convertible top didn't have to be put up to keep pine needles out of the cabin. All in all, a wonderful property that I hope to be able to revisit again.
There are no specials at this time.