Agate Bay Chalet with Ping Pong Table, Wood Burning Fireplace and Large Deck ~ Property #150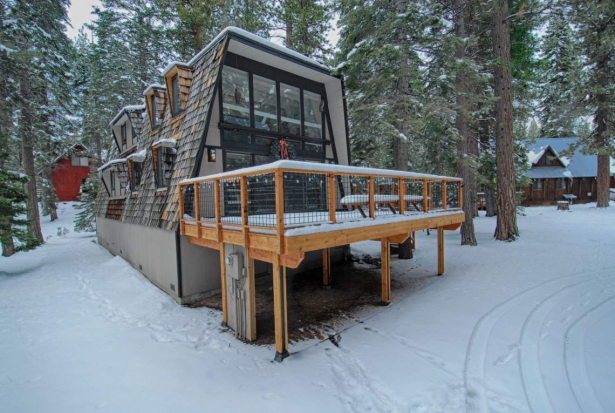 5663 Dodowah Road - Carnelian Bay, CA
Beds: 4
Lofts: 0
Baths: 2
Sleeps: 11
Square Ft: 2064
Property ID: 150

Loading...
This beautiful 4 bedroom home is very open and spacious: great for entertaining! The home boasts tasteful Tahoe Ski Decor throughout and a beautiful mountain architectural style of a modern A-frame.
The large sunny front deck is perfect for relaxing. There's patio furniture for dining in the summer and a charcoal grill below for cooking up a good meal.
Inside the cabin one can cozy up to the large stone wood-burning fireplace on a chilly Tahoe night or relax in the comfortable arm chairs while enjoying a favorite program. Guests can also chef-it up in the gourmet kitchen that features high end appliances and a gas Viking range.
There are two bedrooms on the lower floor and one full bathroom. Each room has sleeping accommodations for two with a queen in the first bedroom and a full-bed in the second.
The community space upstairs is fairly large and houses table tennis and kids games sleeping for five singles in twin beds and loads of natural light coming in from the floor to ceiling windows that overlook the front yard.
Upstairs also hosts a second full bathroom that's accessible from the hall between the bonus room and master and also the master bedroom with a King bed.
Wireless internet, basic expanded cable TV plus streaming capabilities for your enjoyment! Check in directly at the property.
*Pool Table is NOT available for guest use. Foosball table pictured no longer present.
OCCUPANCY:
Per Ordinance #5990-B no more than 10 persons age 16 or greater
Owner's maximum occupancy 11 including persons of ALL ages
Therefore occupancy is limited to a maximum of 10 persons at 16 or greater plus 1 person age 15 or younger
*NO SMOKING
*NO PETS
TOT CERT #4470
Home Features
Basic Expanded Cable
Bear Shed
Check In Directly at Property
Clothes Dryer
Coffee Maker
Deck/Balcony
Dishwasher
DVD Player
Fireplace (Wood)
Flat Screen TV
Forest Views
Full Sized Refrigerator
Furnished
Garbage Disposal
Gas Range/Oven
Hair Dryer
Heating: Natural Gas
Ice Maker
Internet
Internet with WiFi
Iron & Ironing Board
Landline Telephone
Large Home
Microwave
NO Grill
No Pets
Non Smoking Home
Patio
Patio Furniture
Ping-Pong Table
POOL TABLE NOT AVAILABLE
RV / Boat Parking
Sleeps-a-Lot
Smart TV with Streaming
Stereo
Table Tennis
Toaster
TV Set
TV with HDMI Capabilities
Un-Fenced Yard
Vacation Rentals
Vaulted Ceilings
VCR
Washing Machine
Other Amenities
BEDROOM #1 (downstairs): 1 full/double
BEDROOM #2 (downstairs): 1 queen
BEDROOM #3(master): 1 king
BEDROOM #4: 5 twins
EXTRA SLEEPING: 1 twin roll-away, 2 full roll-aways, 1 crib
--------------------------------------------------------------
BATHROOM #1: 1 full bath downstairs
BATHROOM #2: 1 full bath upstairs; Jack & Jill with bedroom #3 & hall
Additional Information
For specific quotes, please click on the orange button above labeled "Availability / Book Now". From there, click on "Rates & Availability" then enter your specific dates and wait for the quote to appear. If you're ready to book, simply click the "Book Now" link.

ADDITIONAL FEES
CLEANING FEE: Each of our homes is assigned a cleaning rate. This is a one-time fee assessed with each reservation.
TRANSIENT OCCUPANCY TAX: 10% (applies to rent and cleaning fee)
VACATION RENTAL DAMAGE INSURANCE: $59.95 – OR - $3,000 Traditional Deposit
OPTIONAL TRAVEL INSURANCE: 6.95% of rent
**
Review this Property
Tahoe Trip
5/5 Stars
July 2020
Nice house. Well equipped and great location.
- Rich H.
Great!
December 2019
Property was great for the family
- Nathan
Neato!
December 2019
The place is neat and has lots of board games and books. Would have given this place 4.5 stars. The only drawback is with a small toddler, the game room/bedroom is too hectic due to the corners of the ping pong table. With no small children, it would have been perfect for us :)
- Henny B.
Great House for the Family!
March 2019
Great house for the family. The host was very accommodating.
- M P.
Loved It!
January 2019
We loved staying here. the house was very spacious, clean, cozy and we'll decorated. We would definitely stay here again.
- Katie W.
!!
January 2019
It's a nice location!
- Carlos A.
We Had a Blast!
December 2018
We had a fabulous time. 3 grandkids and 1 great grandparent had the best of times. It was a fantastic location. We got to all the places we wanted to in a snap. The location and the cabin met all our needs. I would expect anyone to be able to find a rental that will meet their needs. It was easy to communicate and access the keys and drop them off. We had and blast.
- Cathy L.
Amazing Time!
August 2018
Thank you!
★ ★ ★ ★ ★
We had an amazing time! We loved your home and will be returning again next year! Thank you!
- Lisa M.
Thank You!
August 2018
We had an amazing time! We loved your home and will be returning again next year! Thank you!
- Lisa M.
Complete Pleasure!
August 2018
The home was a complete pleasure. We had a wonderful time in Tahoe, with a large majority of our time spent inside the beautiful house. Filled with surprisingly subtle touches, it felt like a home away from home. I am sincerely thankful for the opportunity to have stayed here.
- Paul from San Francisco, CA
Fantastic Value
July 2018
This a great location for a group of friends and family to get together. Fantastic value for the money and a lovely property with a great deck, fun games, and a well-equipped kitchen!
-William from San Francisco, CA
We were pleasantly surprised!! More updated since photos taken
February 2018
Lovely neighborhood! New deck, living area flooring, and dining table. Well stocked kitchen and with games and linen. Loft space worked great for kids to sleep and play. We would definitely stay again!!
- Fiona R.
Just a note of thanks
New Years 2015
The tree, the warm house to walk into, the spotless home, All was great, only problem we had was the wood we bought would not burn! The hot tub was great and the kitchen was well stocked! All of us loved it and it may be a winner for future get togethers.
J. Hilt
Even better than the pictures show!
July 2014
The house was even better than the pictures were able to show. The kitchen was well stocked with dishes, pots and pans, etc. Previous guests had left staples such as salt, pepper, seasonings, and more and we were happy to leave our extras behind. There were plenty of towels and washcloths for the advertised capacity. The house provided plenty of extra pillows and blankets. There was a variety of books, extra outdoor chairs and other comforts of home. The located was perfect! We will hopefully be back sometime soon!
S. Troll
There are no specials at this time.