The "Racoon Shanty", Economical Kings Beach Cabin; Walk to Beach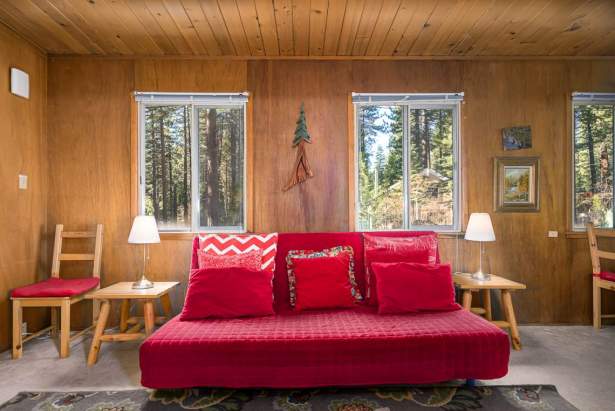 426 Racoon Street - Kings Beach, CA
Beds: 2
Lofts: 0
Baths: 1
Sleeps: 6
Square Ft: 780
Property ID: 192

Loading...
This quaint and cozy Kings Beach cabin is the perfect retreat for a small family trip to Tahoe. Home has 2 bedrooms and 1 full bathroom with shower/tub combo. Sleeps 4-6 guests with a king bed and a single convertible sleeper in the larger bedroom and a twin bunk bed plus another convertible single bed in the 2nd room. Home also has a futon sleeper and a flat screen TV in the living room that's hooked up to a Blu-Ray DVD player and can also be hooked up to your computer to stream shows from the Internet (No cable/satellite). There is also wireless internet access available for guest use.
Grab a novel from the bookcase and cozy up on the couch or take a short walk into downtown Kings Beach where you'll find shops, restaurants, recreation areas and the largest sandy beach on Tahoe's North Shore. Home also has a single car garage where you can keep your vehicle away from the elements.
Pets are negotiable and there is a $50 weekly pet fee if approved.
BEDS: 1 king and 1 single futon sleeper (in bedroom #1), 1 bunk bed with 2 twins and 1 single futon sleeper (in bedroom #2)
ACCESS: Keyless entry
TOT CERT #11243
Property #192
Home Features
Bear Shed
Blu-Ray DVD Player
Check In Directly at Property
Clothes Dryer
Coffee Maker
Coin Laundry Nearby
Covered Parking
DVD Player
Economy
Flat Screen TV
Flooring: Carpet
Forest Views
Full Sized Refrigerator
Furnished
Garage Available
Grill (Gas)
Hair Dryer
Heating: Natural Gas
Internet
Internet Service Available
Internet with WiFi
Landline Telephone
Microwave
NO CABLE TV
NO dishwasher
NO Landline Phone
Non Smoking Home
Pet Fee Required
Pets Negotiable
Single Story Home
Toaster
TV with HDMI Capabilities
Un-Fenced Yard
Vacation Rentals
Walk to Lake
Washing Machine
Other Amenities
BEDROOM #1: 1 king & 1 small futon chair
BEDROOM #2: 1 bunk bed (2 twins) & 1 small futon chair
LIVING ROOM: 1 double convertible bed
--------------------------------------------------------------
BATHROOM #1: Full Bath
Additional Information
For specific quotes, please click on the orange button above labeled "Availability / Book Now". From there, click on "Rates & Availability" then enter your specific dates and wait for the quote to appear. If you're ready to book, simply click the "Book Now" link.

ADDITIONAL FEES
CLEANING FEE: Each of our homes is assigned a cleaning rate. This is a one-time fee assessed with each reservation.
TRANSIENT OCCUPANCY TAX: 10% (applies to rent and cleaning fee)
VACATION RENTAL DAMAGE INSURANCE: $59.95 – OR - $3,000 Traditional Deposit
OPTIONAL TRAVEL INSURANCE: 6.95% of rent
**
Review this Property
Great Stay!
December 2019
Fun little cabin in a great location. Easy walk to lots of restaurants and services in Kings Beach.
- John T.
Amazing rental worth the price
April 2019
Very clean cabin in a beautiful location for a reasonable price. Definitely would stay again!
- Jose C.
Great Location!
March 2019
Great location! And great for a group of 5!
- Jennifer K.
Great location and great value!
March 2019
- Aari H.
Great Location!
March 2019
Good airbnb with a great location. Comfortable and flexible sleeping arrangements. Garage was a bit tight for our SUV and the outlet in the garage didn't work, but otherwise we liked the space.
- Umesh U.
Place was Great!
March 2019
Great little place with all of the amenities we needed!
- Ashley F.
Great Location!
February 2019
Great location! Was perfect for our family. Walk to restaurants and beach and short drive to sled hill!
- Roxanne K.
We Enjoyed Staying!
February 2019
The location is fantastic. Great access to ski grounds. There are great restaurants near by, and Safeway is convenient. The cabin is very clean with comfortable beds and great wifi access. We enjoyed our a week stay.
- Yuko K.
This Place is Great!
February 2019
Although it's small, there is plenty of space for 4-6 people. It's in a nice location, down the street from King's Beach. I would definitely recommend this place to anyone going on a ski/snowboard trip as it is really close to Northstar, Squaw Valley, and Tahoe Donner.
- Dayton E.
Super Cozy Cabin Vibe!
February 2019
Super cozy cabin vibe. Fun nostalgic touches with lots of old games and puzzles. No frills but clean and great for a weekend skiing in Tahoe. Super close to Northstar where we skied. Beds were comfy and kitchen had all you would need to cook a meal.
- Lauren P.
Fun Stay!
January 2019
The space was nice, clean and cozy for a quick getaway. My buddies and I had a great time and quick access to several ski resorts and casinos. They were quick to respond and had great accommodations for us. Would definitely book with them again.
- Kevin D.
Great!
January 2019
Clean; quick walk to the beach
- Elisa L.
Will Recommend to friends and family!
December 2018
- Eric B.
Great Location!
December 2018
Casual and comfortable. None of the frills but perfect for a getaway to unplug and reconnect. Great location!
- Jaclyn R.
Good Home
December 2018
This house is good if you are looking for a place to stay but don't necessarily plan to spend all day in the house. The master bedroom bed is huge and very cozy but bunk beds in the other room are not super ideal for 2 couples. The kitchen had everything we needed for a lot of meal cooking and the wifi worked great, I work from home and had no problem at all connecting the whole time I was there. Could use some personal touches and a more comfortable futon and chairs for sitting in the living room.
- Michelle B.
We Loved It!
August 2018
Thank you for being a great host, my family had a blast! This was our first time going to Tahoe and the first time getting an Airbnb! We loved it and will be returning again!
- Celestine T.
I would come back again!
July 2018
The location to the beach, grocery store, and restaurants was perfect. The common area of the house just needs to be up graded. I would come back again!
- Tom from Las Vegas, NV
Prime Location
July 2018
This property is about 5 blocks from the Lake and 5 blocks from mountain biking and hiking trails. It is prime location for active vacationers! An outdoor deck would have been perfect, but chairs in the yard make do. The game selection is outstanding and the garage was perfect for the toys we brought!
- Susan from Colorado Springs, CO
There are no specials at this time.