Sandy Shores Villa with Private Hot Tub, Pets Welcome! ~ Property #182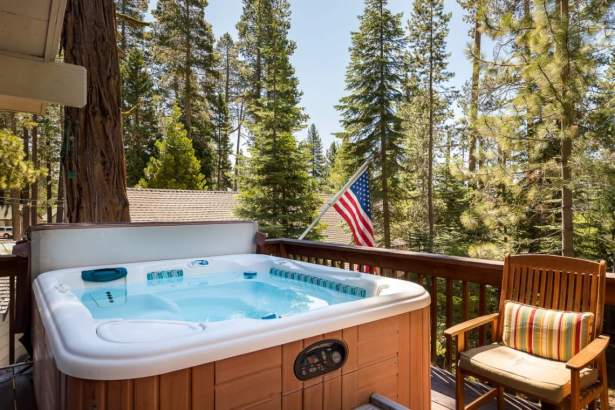 200 Anderson Road - Tahoe Vista, CA
Beds: 5
Lofts: 0
Baths: 5.5
Sleeps: 13
Square Ft: 3017
Property ID: 182

Loading...
Now Available for a Monthly Rental starting in mid-January!
For listing details: click here
Looking for an amazing home for your next Tahoe getaway?
Traditional family home in the perfect North shore location! Home is right across from the beach, just a block from the ice cream shop, centrally located for easy access to either Northstar or Squaw/Alpine and just minutes to the North shore's casinos, restaurants and night life! Kayak and paddle board rentals across the street, Treetop adventure tour less than a mile away, mini-golf fun minutes down the road…what more could one want?
This spacious home has comfortable sleeping space for 13 and all bedrooms have private baths. Repeat: All bedrooms come with their own private bathroom! This is a huge bonus when traveling with numerous families! A maximum of 13 persons of any age may occupy the rental but NO MORE THAN 12 ADULTS are allowed. Adults are considered to be persons age 16 or older. Per Placer County Ordinance #5990-B: 2 adults per bedroom plus no more than 2 additional adults in the common/shared areas. These new county ordinances are strictly enforced and violations include immediate eviction plus hefty fines.
The living room is large and features a cozy L-shaped couch and a new flat screen TV with cable and internet streaming capabilities. The high ceilings, large windows and open floor plan create a sense of warmth and comfort. There's even a gas fireplace to cozy up to on those chilly winter nights. There's a dining room table off the kitchen where you can dine while enjoying tv and the view. There's also an office area in the living room so those that work on the road can do so and still be a part of the group.
The front deck is the ideal place to unwind. There is a private hot tub, patio seating and even a view of Lake Tahoe. All this while the sun shines on the half acre lot on which the house sits, ready for sledding and snow ball fights in the winter and croquet and corn-hole in the summer.
The back deck offers even more space to enjoy the sunshine while grilling up a great meal. It's located just off the large kitchen and dining area. Kitchen features tons of counter space, two full-sized sinks and brand new stainless appliances including a 5-burner gas range.
Home has 5 bedrooms, 2 of which have queen beds and en-suite bathrooms. The master suite boasts a king bed, large closet, new flat screen TV and an en-suite bathroom with jetted tub and separate shower. It is the only bedroom on the upper floor. The 4th bedroom also has on on-suite bath and houses a queen + a twin bed. The last bedroom has 1 twin and 1 pyramid bunk bed (1 twin & 1 full/double) and use of the full bath in the hallway.
Sleds are supplied whether you want to play in the winter wonderland front yard, or drive just two miles to the Kings Beach Sledding area. An exceptional and truly unique place to stay during your next Lake Tahoe holiday! Bring the whole family! Pets negotiable ($125 per pet per week).
Check in directly at the property using a keyless Smart Lock code.
OCCUPANCY:
Per Ordinance #5990-B no more than 12 persons age 16 or greater
Owner's maximum occupancy 13 including persons of ALL ages
Therefore occupancy is limited to a maximum of 12 persons at 16 or greater plus one person age 15 or younger
TOT CERT #8625
Home Features
2nd Full Size Refrigerator
Basic Expanded Cable
Bear Shed
Blender
Cable Television
Check In Directly at Property
Clothes Dryer
Coffee Maker
Coin Laundry Nearby
Covered Parking
Deck/Balcony
Dishwasher
DVD Player
Fenced Yard
Filtered Lake Views
Fireplace (Gas)
Flat Screen TV
Flooring: Carpet
Full Sized Refrigerator
Furnished
Garage Available
Garbage Disposal
Grill (Gas)
Hair Dryer
Heating: Natural Gas
Hot Tub (Private)
Ice Maker
Internet
Internet with WiFi
Iron & Ironing Board
Jetted Bathtub
Lake View
Landline Telephone
Large Home
Luxury
Microwave
Non Smoking Home
Patio
Patio Furniture
Pet Fee Required
Pet Friendly
Pets Negotiable
RV / Boat Parking
Sleeps-a-Lot
Smart TV with Streaming
Toaster
Toaster Oven
TV with HDMI Capabilities
Vacation Rentals
Vaulted Ceilings
Walk to Lake
Walk-in Closet
Washing Machine
Other Amenities
BEDROOM #1 (downstairs): 1 queen
BEDROOM #2 (downstairs): 1 twin & 1 pyramid bunk bed (1 twin & 1 full/double)
BEDROOM #3: (upstairs) 1 king
BEDROOM #4: (downstairs) 1 queen
BEDROOM #5: (downstairs): 1 queen & 1 twin
EXTRA SLEEPING: 1 pack 'n' play
--------------------------------------------------------------
BATHROOM #1: Full bath on-suite with bdrm #1
BATHROOM #2: Full bath in downstairs hall
BATHROOM #3: Full bath on-suite bdrm #3 with jetted tub
BATHROOM #4: Full bath on-suite bdrm #4
BATHROOM #5: Full bath on-suite bdrm #5
BATHROOM #6: Half bath in upstairs hallway
Additional Information
For specific quotes, please click on the orange button above labeled "Availability / Book Now". From there, click on "Rates & Availability" then enter your specific dates and wait for the quote to appear. If you're ready to book, simply click the "Book Now" link.

ADDITIONAL FEES
CLEANING FEE: Each of our homes is assigned a cleaning rate. This is a one-time fee assessed with each reservation.
TRANSIENT OCCUPANCY TAX: 10% (applies to rent and cleaning fee)
VACATION RENTAL DAMAGE INSURANCE: $59.95 – OR - $3,000 Traditional Deposit
OPTIONAL TRAVEL INSURANCE: 6.95% of rent
**
Review this Property
Great property that I want to keep secret and all to myself!
October 2020
5 STARS
We booked this property for our family vacation in October 2020 because of its location and proximity to the lake. The property is close to Kings Beach Rec area, and Kings beach Safeway.... it is also super close to Tahoe Vista Boat (maybe only canoes and kayaks) launch area, and another small quiet little beach. Property is great, it has a big front yard with grass where the kids could play and where the family could sit outdoors and enjoy the weather. Things to note - Master bedroom, half bath, the kitchen, living room, deck with hot tub, deck with bbq is on the top floor.... all other rooms including laundry room is on the first floor of the house. So something to keep in mind for those who don't do stairs very well. The house provided baby stair gates to keep little ones from going down the stairs. Nice open seating area with large family gathering room. Awesome! We will def come again.
- Stephanie H.
Perfect house for a big group!
February 2020
5 STARS
We had a really great time staying in this house. It was perfect for 5 couples because there were 5 equally sized bedrooms and bathrooms. Kitchen was large and the two dining tables made it really easy for family-style dinners. Would absolutely recommend and stay here again. Oh and the location was perfect!
- Sahar P.
Nice Place!
February 2020
5 Stars
This location was excellent - it's right across from the lake. We walked there with our pups. The place was able to house our large group of 12 and 3 dogs comfortably. Our group did do a lot of cooking and the rental supplied us with lot of in-house spices, utensils, pots, pans, etc available for us to use - however, we brought our own for the most part since we weren't sure if they would have any. It does come with soap, sponges, paper towels, towels, towels for the hot tub, linens, etc but be sure to bring your own hair and body soap. They were very accommodating as well when we asked for late check out. All in all very spacious and good location.
- Kristine I.
Gladly Stay Here Again!
January 2020
Great location across the street from the lake and quick drive to skiing. The space was large, comfortable, and convenient. The hosts were very responsive and easy to work with, and I'd gladly stay here again.
- Trevor H.
Had a great time!
December 2019
We had a great time, thank you very much. We were impressed how well equipped the house is, even a rice cooker and a slow cook pot.
- Zhixiang Y.
Highly Recommended!!
September 2019
- Ruixiang L.
Great Accommodations!
March 2019
Great location, just 20 min away from Diamon Peaks. Great accommodations!
- Danton G.
Our Family Loved It!
February 2019
A great place for a family getaway!
- Ngan N.
Great Stay!
January 2019
★ ★ ★ ★ ★
Great house. Large rooms. Great location. Management team was very responsive.
- James B.
Nice!
January 2019
Nice large space for a group and convenient location.
- Mark R.
Great!
January 2019
Great Tahoe home for multiple families. Close to family-friendly ski resorts and other winter activities. I bet it's even better in the summer when you can take advantage of the beach right across the street.
- Tierra F.
Perfect House
December 2018
We spent a week here and it was great! Right across the street from the lake. The main area is open and spacious and perfect to host a larger group. The kitchen was well equipped with everything we needed. The hosts were awesome. I had a couple of questions that I asked them the morning of Christmas Eve and they got back to be so quickly and they were super helpful!
- Kate T.
Perfect Tahoe Lakehouse
April 2018
This house was great! Spacious, very clean, right across the street from the lake and perfect for my group of 8. You could easily be comfortable with a group 10 or 12 here. Check in/out was very easy also. We would definitely stay again!
- Adam W.
March 2018
"Wonderful place for a family gathering"
★ ★ ★ ★ ★ (5 stars)
We totally enjoyed our stay here over the Easter weekend. It's a great place to stay year round being close to Northstar for winter activities and right across the lake for summer activities. The home is probably less than 200 yards to shoreline access through Sandy Beach. Close to lots of good restaurants and easy access to grocery shopping. One interesting comment from our daughter is that she never had to wait to use a bathroom because this place has all the bathrooms you could need. It's also a wonderfully pet friendly home with a large yard. We look forward to visiting again soon.
Jun R.
Sacramento, CA
Very Comfortable
December 2017
The Jacuzzi was hot and clean. Lots of spices and pots and pans for cooking. Everything worked as advertising . All the beds were comfortable.Nice location five minute walk to beach
- Andre M.
Great for Groups
March 2017
Just got back from staying at this house. It's great for large groups. Large area upstairs with the kitchen and living area is a great living space. The kitchen has two sinks and a 6 burner stove. The kicker for us-which everyone agreed was awesome-is that each bedroom came with its own bathroom. So convenient when with a large group. The location is also great. Near King's Beach and Tahoe City. Located directly across the street from the lake. The house is the first house off the main road. We were a little worried about road noise-but this was really a non issue. I hardly heard anything at all. Overall we had a great stay and the rental agency was very responsive to my questions and request. We can't wait to go back.
- Chris S.
Great large house for a friends ski trip
March 2017
The house was huge! It fit all of us comfortably and was very conveniently located near Northstar and the lake. Thanks again!
- Nicole K.
This house was perfect for our family!
February 2017
Kitchen is super, a walkin closet was available for our toddlers "bedroom", enough baths for everyone, a giant hot tub, and very responsive realty personnel! Mother Nature provided lots of snow. Couldn't ask for more for our family ski trip!!
- Kathryn R.
Loved this house!
January 2014
We had a blast at this house... every couple had their own bathroom, which was awesome, kitchen is huge and had everything we needed, and then the living room was big enough to fit our group of 11 perfectly. The yard is big and fenced in, so the kids were happy to explore while we watched them from the spa! Loved being so close to the different ski resorts. Can't wait to come back in the summer and walk across the street to the lake!
New Years Vacation
12/27/2013 - 12/31/2013
The property description online was accurate. The kitchen is very well stocked. Another sofa would be a great addition to the living room as we had 11 people in our group. The home was properly cleaned upon our arrival. We did have an issue with the spa but, we're given a small credit. We would stay with Tahoe North Rentals again in the future but don't have anything booked yet!
Christmas Vacation 2013
12/22/2013 - 12/27/2013
The online description of the property was accurate and the home was in good shape upon our arrival. We did not experience any issues during our stay.
Tahoe Weekend
11/1/2013-11/3/2013
We had nine family members stay in this home for a weekend and we were very comfortable here. It is very large and nice. We loved every bedroom having a bathroom. We really enjoyed our stay and would stay here again.
There are no specials at this time.