Panoramic Lake View Estate with Plenty of Perks, Hot Tub & Gym! The "Luxury Lakeview Retreat"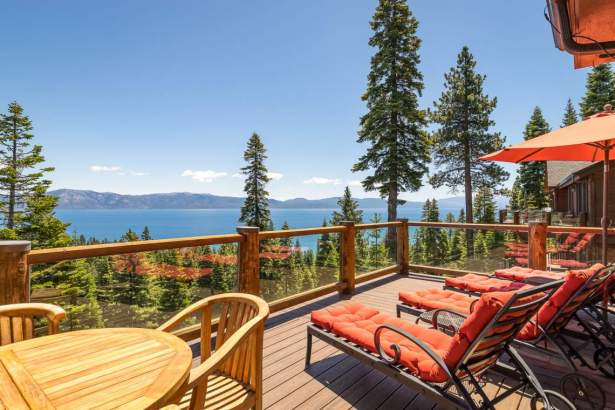 560 Nightingale Road - Carnelian Bay, CA
Beds: 5
Lofts: 0
Baths: 6
Sleeps: 14
Square Ft: 3809
Property ID: 114

Loading...
"Luxury Lakeview Retreat"
This ridge-top Carnelian Bay home boasts some of the best views of the Lake from many rooms and living spaces as well as from the hot tub on the lower deck! This hillside retreat is built with families in mind by offering two living rooms, a gourmet kitchen, large wrap-around decks on both levels, Finnish sauna, in home fitness room, an intimate waterfall, two car garage, five well-appointed bedrooms and six bathrooms.
Entering the main floor the first thing you'll see is the dramatic views of Lake Tahoe looking out through the floor-to-ceiling windows of the sunken living room. The next thing that will likely catch your eye could be the gas fireplace and entertainment center with a 60″ Samsung smart TV for streaming and satellite viewing and stereo system. Off this cozy seating area there's a dining area with seating for 11 including the 3 barstools and a fully stocked chef's kitchen with beautiful white granite counter tops, a three basin stainless sink with insta-hot water and a huge island with gas range. Other high-end KitchenAid appliances include an over-sized side-by-side refrigerator, dishwasher, convection oven and in-wall microwave. The walk-in pantry provides plenty of extra storage for those longer getaways and is where you'll find the additional toaster oven and extra 12 cup coffee maker.
Just off the kitchen is the first of two decks. A perfect view leaves you soaring above the treetops and soaking up the beautiful blue lake. A large gas grill ensures the best dining al fresco experience on could have here at the lake! Take a seat under the heat lamp at either of the two tables with a combined seating for 12, or choose from one of the four comfortable deck loungers.
The first bedroom is the Master Suite on the main floor. This room boasts those dynamic lake views this house is known for as well as a California King bed and a flat screen television with satellite viewing and new furnishings. There is a walk-in closet as well as an ensuite bathroom with marble finishes, a jetted soaking tub, separate shower and double vanity sinks.
The second bedroom, also upstairs, is "The Fountain View Room". It is named after the lush flowing waterfall that runs just outside this bedroom's window. The room has a queen sleigh bed and a full bathroom with tub just outside its door.
The main shared bathroom, located in the downstairs hallway across from the laundry, is more than just your typical powder room. It has a double basin sink as well as a steam shower. Set the timer, turn up the steam and relax those weary ski legs a bit before unwinding in the evening.
Also located downstairs are three of the five bedrooms. These bedrooms are accessed through a second living area with a plush sectional sofa, gas fireplace, wet bar, 70″ satellite television that can play all of your music, DVD Blue Ray player and Denon sounds system with Polk speakers. Access to the hot tub and lower deck is also through this area. The spa is tucked away from wind and weather underneath the upper deck making it comfortable for up to 4 people to soak. This area feels very private and overlooks lush forest and of course, that big blue lake!
The first of three bedrooms housed on the lower floor is "The Hyatt Room". This room overlooks the lake and has a queen bed with brass frame. There's a full closet and plenty of space to spread out. It also has an attached 3/4 bath with shower.
Bedroom number four, also downstairs, is called "The Bunkhouse". Not only does this room have two sets of bunks, each with a twin up top and a full below, but also an attached 3/4 bathroom and access to the in-home fitness room.
The gym has a Life Fitness elliptical, weight bench, treadmill, Nautilus adjustable hand weights and a mini-fridge for that after workout beverage. If you don't want to disturb guests in The Bunkhouse but want an early workout, you can also access this area of the home from the exterior front of the cabin.
The fifth and final bedroom is on the west side of the lower floor and is set apart from the other two bedrooms found downstairs. It overlooks the lake and the hot tub on the lower deck and has a queen bed and ensuite 3/4 bath with over-sized shower. You'll be sure to enjoy "The Sand Harbor Room" and its lake views!
Adjacent to the Sand Harbor suite is yet another perk, a Finnish Wet Sauna to sweat out the day behind and refresh for the day ahead.
Newly upgraded internet (August 2020) with enough juice for up to 30 devices.
Parking for about 4 vehicles including the two car garage. Pets welcome with additional pet fee.
Check in directly at the property using a keyless Smart Lock code.
OCCUPANCY: Per Placer County Ordinance #5990-B: 2 adults per bedroom plus no more than 2 additional adults in the common/shared areas
A maximum of 14 persons of any age may occupy the rental but NO MORE THAN 12 ADULTS are allowed. Adults are considered to be persons age 16 or older. These new county ordinances are strictly enforced and violations include immediate eviction plus hefty fines.
TOT CERT #
STR PERMIT #70934
PROPERTY #114
Home Features
Air Humidifier
Bear Shed
Blender
Blu-Ray DVD Player
Check In Directly at Property
Clothes Dryer
Coffee Maker
Coin Laundry Nearby
Deck/Balcony
Dishwasher
Fireplace (Gas)
Flat Screen TV
Forest Views
Full Sized Refrigerator
Garage Available
Garbage Disposal
Gas Range/Oven
Grill (Gas)
Hair Dryer
Heating: Natural Gas
His and Her Bathroom Sinks
Ice Maker
Instant Hot Water
Internet
Internet with WiFi
Iron & Ironing Board
Jetted Bathtub
Lake View
Large Home
Luxury
Microwave
Mini-Fridge
Non Smoking Home
Patio Furniture
Patio Heat Lamp
Pet Fee Required
Pets Negotiable
Sleeps-a-Lot
Smart TV with Streaming
Stereo
Toaster
Toaster Oven
TV Set
TV with HDMI Capabilities
Vacation Rentals
Vaulted Ceilings
Walk-in Closet
Washing Machine
Wet Bar
Wet Sauna
Wine Fridge
Other Amenities
BEDROOM #1 "Master"": 1 California King
BEDROOM #2 "The Fountain View Room": 1 Queen
BEDROOM #3 (downstiars) "The Hyatt Room": 1 Queen
BEDROOM #4 (downstairs) "The Bunkhouse": 2 Bunk Beds, each with a full/double below and a twin uptop
BEDROOM #5: (downstairs) "The Sand Harbour Room": 1 Queen
----------------------------------------------------------------------------------------------
BATHROOM #1: Full bath on-suite with bedroom #1
BATHROOM #2: Full bath upstairs near bedroom #2
BATHROOM #3: 3/4 Bathroom with steam shower in upper hall
BATHROOM #4: 3/4 ensuite bdrm #3
BATHROOM #5: 3/4 ensuite bdrm #4
BATHROOM #6: 3/4 ensuite bdrm #5
You can stream only from the main living room television. The other two are for satellite or DVDs.
The fireplaces are generally turned off in the peak summer months.
In winter months, we recommend you use an alternate route than as suggested on Google maps.
Take Old County Road to Summit Road then take a right and go down Nightingale. House will be on the lake side of the road.
Additional Information
For specific quotes, please click on the orange button above labeled "Availability / Book Now". From there, click on "Rates & Availability" then enter your specific dates and wait for the quote to appear. If you're ready to book, simply click the "Book Now" link.

ADDITIONAL FEES
CLEANING FEE: Each of our homes is assigned a cleaning rate. This is a one-time fee assessed with each reservation.
TRANSIENT OCCUPANCY TAX: 10% (applies to rent and cleaning fee)
VACATION RENTAL DAMAGE INSURANCE: $59.95 – OR - $3,000 Traditional Deposit
OPTIONAL TRAVEL INSURANCE: 6.95% of rent
**
Review this Property
Yes!
August 2020
Lovely home with nice "mountain" decor theme, definitely felt like we were in a Tahoe mountain house. The home was larger than anticipated from viewing photos, good surprise. Each room had a bathroom which was great for our family of mostly adults. View from the deck was even better than the pictures... we enjoyed dinner on the deck most evenings watching wonderful sunsets. The kitchen was large with a nice center island, perfect for cooking as a family and serving "buffet" style. The home is only a 10 minute walk down the street to access easy hiking trails that also connect to a paved walking path... one path leads to Dollar Reservoir. Overall nice home, enjoyed our time spent there and would stay again.
- Alison H.
Great Stay!
August 2020
Amazing location and house on the North Shore. Very quiet and private area, pictures were exactly as the house was. Sauna and hot tub took it to the next level. Easy access to anywhere on the North Shore. Perfect for a bachelor party group of 8-10 comfortably!
- Josh B.
We Enjoyed Our Stay!
August 2020
Great house with a great view. The hosts are wonderfully responsive and helpful.
- Pramod A.
Even Better in Person!
5/5 STARS
August 2020
I thoroughly enjoyed my stay at this gorgeous North Tahoe home. Location was perfect and so close to downtown, with an incredible view of the lake. There were plenty of rooms and amenities for comfort and the home itself is more stunning in person. I highly recommend this property for any future Tahoe stays.
- Ashley S.
Excellent Place, going back for sure!
5/5 STARS
July 2020
Fantastic view of Lake. Pretty much all the bedrooms had own personal showers and bathrooms. Each family had there own personal space, no need to wait to get in bathroom or to take quick shower. The garage was huge plus. Parked 2 cars in the garage and 2 outside in driveway..With 2 living rooms we had plenty of space. We planned this visit on short notice, definitely going to rent this place again for longer period of time..
- Mujtaba A.
There are no specials at this time.