"The Gingerbread Cottage" ~ Fairytale Home with Fireplace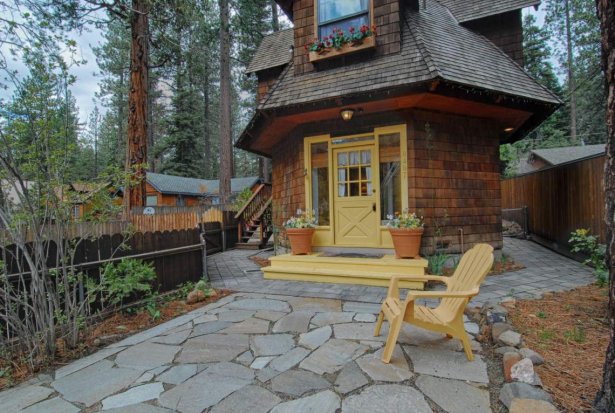 8487 Steelhead Avenue - Kings Beach, CA
Beds: 1
Lofts: 0
Baths: 2
Sleeps: 5
Square Ft: 918
Property ID: 103

Loading...
*Available for a monthly rental beginning in April
Click Here for more information
One-of-a-Kind cottage in Kings Beach! This unique cottage is perfect for a romantic getaway or small family stay! The master bedroom boasts a 20 foot Tee-Pee ceiling forming an octagon shaped retreat. A remodeled on-suite master bathroom has heated porcelain floors. Sleeps up to 5.
This rental provides usage of bikes and Kayaks! 2 decks provide ample room for taking in the beauty of Lake Tahoe and outdoor entertaining.
You can't find a more unique property within walking distance of the lake!
This unique home is completely fenced and located in the heart of the Kings Beach "Grid". The property known as "The Gingerbread Cottage" by locals has a distinct look inside and out. With two patio areas, one for grilling and one rooftop for views, and use of bikes and kayaks, you might spend just as much time outside as outside!
Inside you can snuggle in the queen-sized sleigh bed with the comforts of memory foam and quality linens UNDER the one of a kind 16 beams coming together into a 20 foot teepee CEILING in the octagon shaped large master suite. And enjoy the bright, NEWLY REMODELED MASTER BATH with HEATED PORCELAIN TILE FLOORS.
The intimate octagon family room on the main floor has TV and a Blu-Ray with Wi-Fi DVD player with surround sound to stream Netflix, Hulu, Amazon etc. Stay warm on those cool nights with the convenience of the freestanding gas stove. This room can also function as a second separate sleeping area. The main floor bathroom has a SLATE WALK-IN SHOWER with a gentle rain shower head. Additional note this toilet area is tightly built like being on a boat, so may not be best for larger individuals.
Enjoy cooking with a full furnished kitchen and high top dining table. Unpack and stay awhile using the stackable washer and dryer. Or take a stroll down to the beach or restaurants.
With the most unique house in the area and a prime location, you can't go wrong with this romantic Gingerbread Cottage!
CHECK IN: Directly at property using a lock box
OCCUPANCY: Per Ordinance #5990-B no more than 4 persons age 16 or greater | Owner's maximum occupancy 5 including persons of ALL ages | Therefore occupancy is limited to a maximum of 4 persons at 16 or greater plus 1 person age 15 or younger
NOTE: Security camera on-site
Property #103
TOT CERT #11925
Home Features
Bear Shed
Blu-Ray DVD Player
Cable Television
Check In Directly at Property
Coffee Maker
Coin Laundry Nearby
Deck/Balcony
DVD Player
Fenced Yard
Fireplace (Gas)
Flat Screen TV
Flooring: Carpet
Flooring: Hardwood
Flooring: Tile
Full Sized Refrigerator
Furnished
Gas Stove
Grill (Gas)
Hair Dryer
Internet with WiFi
Kayaks Included in Rental
Microwave
NO dishwasher
No Pets
Non Smoking Home
Patio
Patio Furniture
Smart TV with Streaming
Stackable Washer-Dryer
TV with HDMI Capabilities
Use of Kayaks with Rental
Vacation Rentals
Walk to Lake
Additional Information
For specific quotes, please click on the orange button above labeled "Availability / Book Now". From there, click on "Rates & Availability" then enter your specific dates and wait for the quote to appear. If you're ready to book, simply click the "Book Now" link.

ADDITIONAL FEES
CLEANING FEE: Each of our homes is assigned a cleaning rate. This is a one-time fee assessed with each reservation.
TRANSIENT OCCUPANCY TAX: 10% (applies to rent and cleaning fee)
VACATION RENTAL DAMAGE INSURANCE: $59.95 – OR - $3,000 Traditional Deposit
OPTIONAL TRAVEL INSURANCE: 6.95% of rent

**
Review this Property
Beautiful Backyard!
June 2020
4 STARS
My mom and I stayed for a few days, to get out of the city. This was the perfect little home for the 2 of us. The backyard was my favorite part. So beautiful and peaceful. We were very comfortable.
- Claire B.
Cute Cottage!
January 2020
Great location, very cute cottage and had a wonderful time, but it's getting a 'little' tired and frayed around the edges. With that said, it is still highly recommended!
- Darren R.
Super cute place! Loved how you could walk to Longs Beach
August 2018
We loved how close it was to town. The kayak was awesome. We rode the bikes everyday. I love TAHOE:)
- Amy H.
Perfectly appointed, magical Gingerbread house!
September 2018
Perfectly appointed, magical Gingerbread house! The attention to detail with amenities and decor is phenomenal. The location is ideal for dining and shopping. We did not kayak, but we enjoyed the bikes. The backyard is lovely and we enjoyed the deck most all the week we were here. It was immaculate when we arrived and we left it the same way. I can not recommend this rental highly enough nor the property managers, who were always helpful. The Gingerbread cottage rocks!
- Christy B. and Kathy M.
Immaculate and well appointed Gingerbread Cottage
September 2018
★ ★ ★ ★ ★
The Gingerbread Cottage is wonderful. We enjoyed every moment of our visit.
From the kayaks to the bicycles, the amenities are outstanding. The owner has thought of every comfort.
We truly loved our stay here and highly recommend.
- Christina B.
Cute!
August 2018
The house is as cute as it looks in the photos! I don't think the photos do the yard justice, it is really nice out there! Very close to the beach, and anything you'd need!
- Kristi from Portland, OR
There are no specials at this time.