The "Lazy Bear Lodge" with Hot Tub ~ Property #247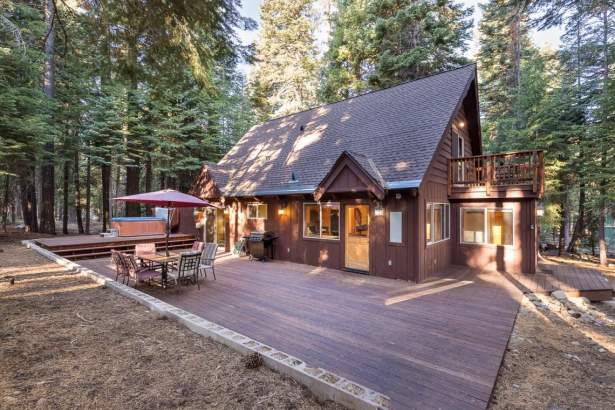 473 Elm Street - Tahoma, CA
Beds: 3
Lofts: 0
Baths: 2
Sleeps: 10
Square Ft: 1,712
Property ID: 247

Loading...
AVAILABLE FOR A MONTHLY RENTAL
For details, please click here
The "Lazy Bear Lodge" three bedroom home is located in a quiet forested neighborhood on Tahoe's West Shore. Home has a two car garage, large plot of land, huge deck with summertime patio seating, gas grill and hot tub at the exterior. The interior of the cabin features beautiful hardwood flooring on the lower level plus an open floor plan. The kitchen is updated with high end appliances including a gas range, wine fridge and large island for prepping those great family meals!
The living room has a large L-shaped couch with a pullout sleeper sofa, wood burning fireplace and television with cable and DVD player.
Off of the living area there is a bedroom, bathroom and laundry room. The downstairs bedroom houses a queen bed and overlooks the back yard. This room also has a smaller television with cable. The downstairs bathroom is a full bath with tub/shower and nice updates like a pedestal sink and nice tiled shower and flooring.
The laundry room has a front-loading washing machine and clothes dryer. The towels for the spa are stored here as there is a sliding patio door with egress directly to the hot tub on the deck.
The upper level of the cabin has two more bedrooms and another bathroom. The first upstairs bedroom is considered the master suite. It's a huge space and has a private balcony and king bed.
The second bedroom has two extra long twin beds and a full/double bed for sleeping of up to 4 guests.
Between the two bedrooms upstairs there's a smaller bathroom with a soaking tub. This bathroom has also been updated with a pedestal vanity and beautifully tiled tub.
Home sleeps up to 10 guests with ease and is available now for your group's enjoyment!
CHECK IN: Directly at Property!
El Dorado County Vacation Home Rental Permit #1139
Home Features
Basic Expanded Cable
Bear Shed
Cable Television
Check In Directly at Property
Clothes Dryer
Coffee Maker
Deck/Balcony
Dishwasher
DVD Player
Economy
Fireplace (Wood)
Flat Screen TV
Flooring: Carpet
Flooring: Hardwood
Flooring: Tile
Forest Views
Full Sized Refrigerator
Furnished
Garage Available
Garbage Disposal
Gas Range/Oven
Grill (Gas)
Hair Dryer
Heating: Natural Gas
Hot Tub (Private)
Ice Maker
Internet
Internet with WiFi
Landline Telephone
Microwave
No Pets
Non Smoking Home
Patio
Patio Furniture
Sleeps-a-Lot
Storage Shed
Toaster
TV Set
Un-Fenced Yard
Vacation Rentals
Washing Machine
Wine Fridge
Other Amenities
BEDROOM #1 (downstairs): 1 queen
BEDROOM #2: 1 king
BEDROOM #3: 2 extra long twin beds + full/double
LIVING ROOM: 1 sleeper sofa pull out
--------------------------------------------------------------
BATHROOM #1 (downstairs): 1 full bath
BATHROOM #2: 3/4 bath with tub only
Additional Information
For specific quotes, please click on the orange button above labeled "Availability / Book Now". From there, click on "Rates & Availability" then enter your specific dates and wait for the quote to appear. If you're ready to book, simply click the "Book Now" link.

ADDITIONAL FEES
CLEANING FEE: Each of our homes is assigned a cleaning rate. This is a one-time fee assessed with each reservation.
TRANSIENT OCCUPANCY TAX: 10% (applies to rent and cleaning fee)
VACATION RENTAL DAMAGE INSURANCE: $59.95 – OR - $3,000 Traditional Deposit
OPTIONAL TRAVEL INSURANCE: 6.95% of rent

**
Ski Lease Information

**
Review this Property
Great Family Cabin!
February 2020
5 STARS
The warmth of this cabin made for a very comfortable stay for my family of 6. We enjoyed soaking in the hot tub after a long day of skiing. Located in a perfectly quiet neighborhood.
- Erin A.
Excellent!
December 2019
Overall was an excellent experience. Loved the basket of emergency items (toothbrush, hand warmers, popcorn, etc). House was fully stocked with guest amenities. Super comfy couch and fire place. Spa was awesome! For $900/night would probably recommend having newer bedding and towels. Some of the lights need to be replaced. Overall a great experience!
- Carla A.
Fun Weekend!
September 2019
I recommend this place. The only problem was that we were unaware of bears to be so close to this property, and we came unprepared. North Tahoe Rental contacted us two hours before our check in and let us know that a bear was seen in this property the night before, but it was too late to buy repellents and traps. Nothing happened eventually and we had a fun weekend.
- Rad N.
Wonderful Cabin
Wonderful cabin. Great location near lake and activities. House was very well stocked with amenities. Clean and comfortable, loved the hot tub! Will stay again!
- Adric Huynh
Great Place. Would Return!
February 2019
- Jake S.
Great Property!
January 2019
★ ★ ★ ★ ☆
Great property conveniently located to Homewood. Very comfortable. Especially appreciated kitchen with all necessary appliances and some incidentals like paper goods and storage baggies, etc. for guest use. Prompt service of toilet that clogged. Enjoyed the hot tub.
- Alison C.
Thanks for a great stay!
December 2018
This is a great place for families- cozy, not too fancy, has all the basics, hot tub is awesome, clean warm house near ski resorts and groceries. We were 2 couples and six kids....
- Ranu M.
Awesome Place to Stay!
October 2018
My family and I stayed at the cabin a couple weeks ago and we loved it!! The scenery around the house was beautiful and inside the house incredibly comfortable. If you're looking for a relaxing time in Lake Tahoe, would totally recommend trying out this place!!
-Andrew B.
Great Location
August 2018
The Lazy Bear Lodge worked well for our two families. Great location, close to both Chambers and Meeks Bay. We loved the outdoor area. The house was nice and clean upon arrival and had plenty of room for the four adults and four kids.
- Kristan S.
There are no specials at this time.